Color "Becky / Buster" and kids under 12 get in free (see below for details/rules)!
Just like you – kids love action, excitement, beautiful horses, gnarly bulls, cool cowboys, awesome cowgirls, and sparkly rodeo queens!  We are making it easy to bring the whole family and your friends to experience all of the action and excitement that the sport of professional rodeo brings!  Check this out!
Introducing Becky and Buster!!
Families and Friends – With a paid adult ticket, kids (12 and under) can get in free to Sunday's performance of the 2017 RAM PRCA California Circuit Finals Rodeo!  AND, pre-sale tickets, using the promo code "rodeo5", makes your adult ticket only $5 ( link ).  How can you beat that deal!!!  Rodeo – Shopping – Vendors – Live Music – Cowboys – Cowgirls – and so much more!!  It is the perfect way to spend your Sunday afternoon – Making memories with family and friends!  Here is what you do!
Download "Becky" and/or "Buster".  Sit down with your youngsters and start coloring!!  Color them – Bling them – any way you want!  Then, on Sunday, October 15th – Come to the Antelope Valley Fairgrounds for "Champions Day" at the 2017 RAM PRCA California Circuit Finals Rodeo!  Have your little ones bring "Becky" or "Buster" (or both!) and they will get in free!  No limit per family (see rules below).
(If your kids want to share their "Becky" or "Buster" with us, take a picture and send them to them to our Facebook Page ( link ), or share on your page and "tag" us ( FB – California Finals Rodeo ) – We will do our best to share with all of our fans!
Sponsored by:

NOTE:  Pre-sale Rodeo Promo Code "rodeo5" may be used for all three performances of the
2017 RAM PRCA California Circuit Finals Rodeo. See below for discounted ticket prices for
all three performances
Here are "Becky" and "Buster" – they are ready for you to download and color!  
And don't forget about the fine print – Here are the rules (there are not many – we want to see lots and lots of families at the rodeo).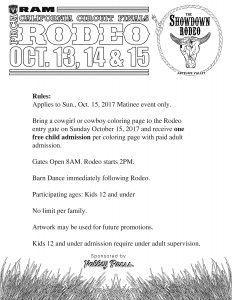 For all information about the 2017 RAM PRCA California Circuit Finals Rodeo, please visit the California Circuit Finals website / Facebook.  You can also visit our Partners, the Antelope Valley Fair website / Facebook.
See you at the Finals!!!!!!!!