The Showdown Chefs
Saddle-Up Therapeutic Riding Stables
Dawn and Oscar Babers
Laurie Brown
H & M Veterinary Hospital
The Showdown Chefs:  Our Showdown Chefs will be on hand to treat our VIP's to an outstanding meal before each day's rodeo action starts!  They have established quite the reputation for not only serving up delicious food, but their hospitality and graciousness will make all our VIP's feel very special and right at home.  We thank them for all they do!  We would also like to acknowledge the Quartz Hill Garden Center for providing all of the beautiful plants and foliage for our VIP area.
Showdown Chefs –  John & Adrienne Reca; Ross & Melody Briseno; Dennis & Meloni Buie; Ken & Brook Haas; Allen & Angela Hefter.  Thank you for all you do to make our events a success! (Also pictured, Newly Appointed Board President and Showdown Rodeo Committee Chairman, Mr. Johnny Zamrzla welcoming VIP's)
Saddle-Up Therapeutic Riding Center:
We would like to acknowledge Ms. Jean Cipolla, President of Saddle-up Theraputic Riding Stable.  Wearing many hats, our friends at Saddle-up not only welcome our Rodeo Fans at the gate, but they also assist in the VIP area.  To find out more about Saddle-up visit them on website and Facebook.
VIP Hosts:
Dawn and Oscar Babers are always on hand to welcome our VIP's.  Dawn works tirelessly behind the scenes to coordinate sponsorships and make sure our Sponsors and VIP's know how much they are appreciated and how much their support means to Rodeo.  We thank them for their tireless efforts on behalf of the Showdown Rodeo and now the RAM California Finals Rodeo.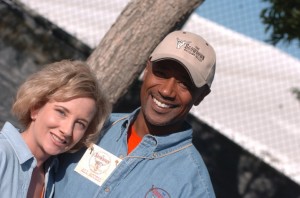 Cowboy Hospitality:
We would like to thank Laure Brown! For the past 5 years she has been an integral part of welcoming and providing delicious meals for our contestants.  Laure will be serving up Dinner on both Friday and Saturday evenings, and Sunday lunch for our championship competitors! We thank you Laure for always going to extra mile to ensure our competing cowboys and cowgirls feel right at home.
Photos
Liz and Rich Breault have been a big part of the Showdown Rodeo Family for years.  They continually find ways of capturing the "spirit" of rodeo in their photographs.  Whether behind the scenes and chutes, in the crowds, or shooting the action, they continually find ways of uniquely capturing the "Spirit of Rodeo".  They allow us to use these photos on our websites and social media to help promote both the sport of rodeo and the western way of life.  We thank them for always being there to help!  Liz's passion is photographing the beautiful scenery, flora and fauna, of our beautiful Antelope Valley.  To see her work, please visit Facebook
Official Veterinarian:
Dr. McNeil, D.V.M.  – H & M Veterinary Hospital is our official Veterinarian.  Providing medical and surgical services for horses, goats, sheep, cattle, alpacas, large exotics, dogs, cats, birds, reptiles, rabbits, guinea pigs, and small pets.  We thank Dr. McNeil and Becky Hand, R.V.T., for the many years they have volunteered and assisted us.  We are so proud they will be with us for the RAM California Finals Rodeo.  To learn more about Dr. McNeil and her practice, visit website.  Follow them on Facebook too!