A Brand Above the Rest – The Poway Rodeo!  The first performance of the Poway Rodeo kicks off tonight.  Two more performances tomorrow (Saturday, September 24th).  You are not going to want to miss this – The Poway Rodeo always delivers non-stop, action-packed PRCA/WPRA Rodeo!  Cowboys and Cowgirls are in town and are ready to hit the arena.  So many events happening in conjunction with the Poway Rodeo.  For all event information, please visit their website and be sure to follow them on their Facebook.
Editors Note:  The Poway Rodeo is part of the PRCA California Circuit.  The PRCA/WPRA California Circuit Finals Rodeo will be held October 7 & 8, 2016, at the Antelope Valley Fairgrounds in Lancaster, California.  The top 12 PRCA CA Circuit Cowboys and Cowgirls, in each event, will rope and ride for the Circuit Championships and Year End Championships at this event.  For more info, please visit website /Facebook (we would love for you to give us a "Like").
Congratulations to your 2016 Miss Rodeo Poway, Brigette LaHaye – We wish you a fun-filled and memorable reign.
We would like to take this opportunity to say a special "Thank You" to Mariah Hunt, your 2015 Miss Rodeo Poway, for all of her assistance at the 2015 RAM PRCA California Circuit Finals Rodeo.  You did a great job promoting the Poway Rodeo, the professional sport of rodeo, and again, thank you for helping us to present all of our Sponsor flags at the Finals!
Your Announcer for the 2016 Poway Rodeo is 4-time PRCA Rodeo Announcer of the Year, Mr. Wayne Brooks ( website ). Congratulations to Mr. Brooks who has, once again, been nominated for Rodeo Announcer of the Year for 2016. Good Luck Sir!
The Salt River Rodeo Company will provide all of the animal athletes for the 2016 Poway Rodeo.  Your PRCA Photographer is Mr. Reed Settle.  Be sure to check out his  website / Facebook for all the official photos and memories captures.
Frankie "Punkintown" Smith  ( website / Facebook ) will be in the arena keeping the crowds laughing and having a great time!
Rodeo Secretary is Sherry Sheldon-Gibson. Her extensive knowledge and expertise will ensure a smooth running operation and PRCA Timers Sharon DeLaGrange and Nancy Dorenkamp will be on hand for all of the timed events.
Your Miss Rodeo California 2016, Rachel Owens Sarno ( website / Facebook ) will be in attendance at the Poway Rodeo.  Be sure to say Hi and wish her luck as she vies for the title of Miss Rodeo America in December!
Earlier in 2015,  our Rodeo Community, especially our friends in the Poway community, lost a true friend – Mr. Russ Sheldon.  Mr. Sheldon was a long time resident of the Poway community, and was a founding member of the Poway Valley Riders Association, as well as the Poway Rodeo.
To remember Mr. Sheldon and his vast contributions, the Poway Valley Riders Arena has been renamed the Russ Sheldon Arena.  Additionally, again this year, the 2016 Poway Rodeo "All-Around Winner" will receive a special award sponsored by RAM, in honor of Mr. Sheldon!
So-Cal Rough Stock Series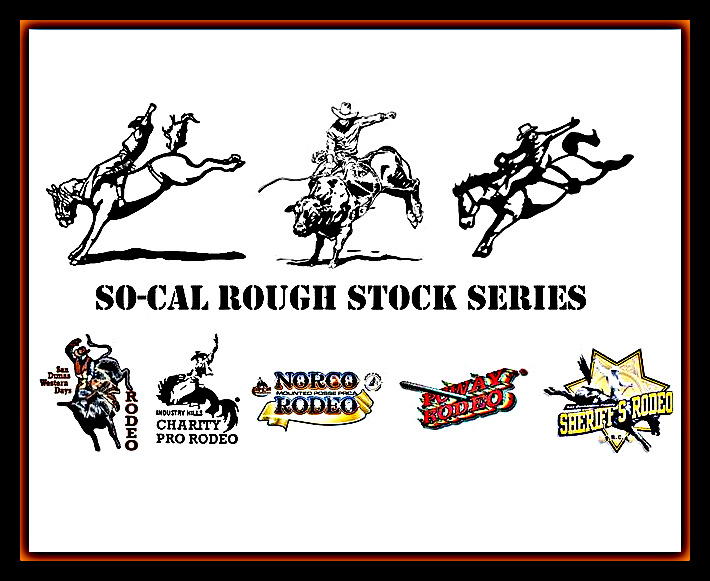 "Five Southern California PRCA sanctioned rodeos have announced the creation of the So-Cal Rough Stock Series. Beginning with the 2016 season, rough stock contestants who ride in all five rodeos will be eligible for bonus money at the end of the season. Contestants will be awarded points depending on how they place in each of the rodeos. The aggregate leader at the end of the season in each of the three rough stock events will win $3,000. Second place pays $1000, and third place pays $500.
"This is a way for us to increase participation in our rodeos by providing cowboys incentive to travel to Southern California to compete. $3,000 will buy a lot of gas, so we are hoping to entice cowboys who might not currently travel to our rodeos to give us a second look."
Participants must compete in all five rodeos to be eligible for prize money and all PRCA Card and Permit holders are eligible to participate.
Participating Rodeos For The 2016 Season Are:
"Our goal is to increase the number of participating rodeos in the future so we can gather enough money to open the series up to the timed event cowboys and cowgirls as well."
See you in October for the RAM PRCA CA Circuit Finals Rodeo ( website / Facebook ) which will be held October 7th (one performance) and October 8th (two performances and awards ceremony), 2016 – in Lancaster, CA ( website/ Facebook ) – at the Antelope Valley Fairgrounds ( website / Facebook ).  Thank you for your support!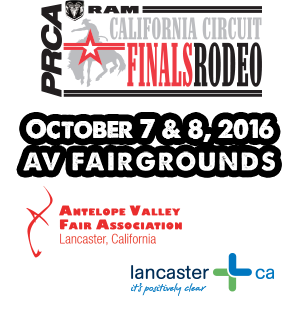 …
…
…