RAM PRCA California Circuit Finals Rodeo
comes to the A. V. Fairgrounds October 7 & 8
Top twelve contestants in California to compete in seven rodeo events
For Immediate Release – Wendy Bozigian Marketing Manager 661-948-6060 ext.132 Antelope Valley Fair
Lancaster, CA. September 27 , 2016—  The RAM PRCA (Professional Rodeo Cowboys Association) California Circuit Finals Rodeo Committee and the Antelope Valley Fairgrounds today announced that tickets are on sale at avfair.com for the upcoming RAM California Circuit Finals Rodeo on October 7th and 8th.
The rodeo will showcase the competitive skills of the top twelve contestants in the California Circuit for all seven rodeo events (bareback riding, bull riding, saddle bronc riding, steer wrestling, team roping, tie-down roping and barrel racing).  And once again, the best of announcing will be provided by Don Jesser and Kelly Kenney.
Johnny Zamrzla, Committee Chairman of the RAM California Circuit Finals Rodeo 2016 commented,  "We are back with a bigger and better Circuit Finals Rodeo to present to the community.  Together with our partners, the Antelope Valley Fair, City of Lancaster and our many supportive sponsors, we are bringing the top 12 contestants in each of Pro Rodeo's seven events to compete using the top animal "athletes" that have performed in numerous California rodeos.  This year, these champions will compete for a $172,000 purse.  The competition is stiff between the best of the best contestants.  We guarantee these three performances will be affordable with our new, $10 off tickets codes, and good clean fun for the entire family.  We look forward to seeing you at the rodeo!" [ Use Rodeo Code – rodeo9 )

Rodeo festivities kick-off on Friday, October 7, Patriot Day, where fans are encouraged to wear red, white and blue.  The gates open at 5p.m., and the Rodeo will begin at 7:00p.m.   There will be TWO CA Finals Rodeos on Saturday, October 8th. The Gates open at 11a.m., and the Matinee Rodeo will begin at 1:00p.m.  Seats for the 1pm Matinee Rodeo only are festival seating (first come, first seated), so come early!
The Saturday evening Rodeo will begin at 7p.m. and attendees are encouraged to get to their seats early Saturday night for a special Ride for the Pink opening event. Ride for the Pink is an organization dedicated to raising money for breast cancer research, awareness and treatment.  Guests can be a part of the night's theme by wearing "Pink" in honor of those who have lost their battle, who are survivors, who are currently fighting cancer and in support of finding the cure for Breast Cancer.
Rodeo patrons are encouraged to come "early and stay late" on both evenings to dance the night away with Jacob Nelson and the Tone Wranglers (www.jacobnelson.com), who will perform at the Van Dam Barn Dance once again sponsored by High Desert Dairy immediately after the Rodeo in the Corona Cantina.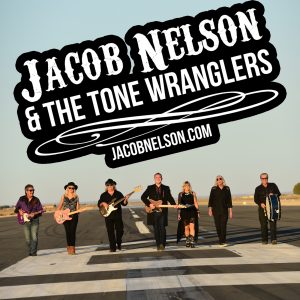 Jacob Nelson and the Tone Wranglers
The KTPI Radio station will have dummy roping practice and cornhole games before the evening Rodeos, and free photos on the Rodeo Red Carpet will also be available each night.
Taking place both days will be the Bobby Kerr Mustang Act.  Bobby Kerr has been in horse training for over 40 years. He has trained and shown Reining, Roping, Working Cow Horse and Cutting.  He is the Founder of the Texas Cowboy Hall of Fame (TCHF) now located in the Stockyards in Fort Worth, Texas.  Bobby is also a talented craftsman. For over 20 years he owned and operated Cowboy Art creating many custom metal signs and fixtures.  Bobby has just won the 2016 Dress Specialty Act of the Year and will be featured at the Wrangler National Finals Rodeo in Las Vegas this December. In 2015, Bobby was also nominated in the top 5 for PRCA Specialty Act of the Year.
Bobby Kerr Mustang Act
Rodeo performances also include The Riata Ranch Cowboy Girls who are known worldwide for their western performing arts including trick riding and trick roping.  To date, they have traveled to 18 countries and across the United States representing the Western American lifestyle.  Each girl is a product of the training provided by the Riata Ranch Youth Horsemanship Clinics and the philosophy and way of life exemplified in the daily routines at Riata Ranch. Students chosen for the teams go through an extensive program that focuses on combining physical skills that promote positive life skills.
This year's barrel man is Donnie Landis.  Landis has worked as barrel man at the RAM National Circuit Finals Rodeo twice, and the biggest rodeos in the world including the Calgary Stampede in Canada and the Houston Livestock Show at the Astrodome.  His personal clowning career began when Landis was 12-years-old.  He became the first miniature bucking bull contractor, in the business for more than a decade, while raising his family, and supplementing his endeavors as a truck driver. "A barrel man's duty is to entertain the crowd during the 'down time' that is inherent to the sport of bull riding," said Landis, who works with a big open-ended padded clown barrel.  A typical business day for Landis includes getting Mario, his trained flea, to jump from a high dive into a bucket of water, cantering his rare, wild "cantabeatalope" across a rodeo arena, while the steed's giraffe-like neck swivels around to give him a 360 degree vision, and setting his over-sized "mousetrap" in hopes of catching a Brahma bull during the rodeo bull riding.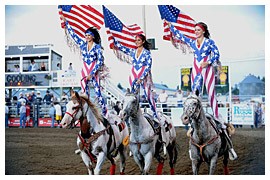 Riata Ranch Cowboy Girls, http://rrcowboygirls.com
 Miss Rodeo California 2016, Rachel Owens-Sarno, is a 23 year old resident of Lakeside, California in San Diego County.  She currently attends Grossmont College, where she is working toward a degree in Media Communications with an emphasis on Broadcast Journalism.   She competes in the National Barrel Horse Association with her horse, Mr. Biscuits.  Rachel is also member of the El Capitan Stadium Association (ECSA), a volunteer organization that puts on the annual Lakeside Rodeo.  The ECSA is dedicated to raising money to give back to the youth of Lakeside.  Rachel's platform this year is "Respect Ourselves, Drive to Empower Others."  She believes it is important to respect and empower not only ourselves, but those around us and that respect is the basic step to having a better life.  For information on Miss Rodeo California, go to www.missrodeocalifornia.com.
Miss Rodeo California 2016, Rachel Owens-Sarno
RAM PRCA California Circuit Finals Rodeo local Major sponsors include: American Medical Response, Antelope Valley Harley Davidson, Antelope Valley Hospital, Bowe Contractors, Inc., California Collision Center, Coors, Gary Little Construction, H.W. Hunter Dodge "RAM of the West", High Desert Dairy, J.B. Wholesale Roofing & Building Supply, Learn 4 Life, Pendleton       Whisky, Stephen B. Marvin Insurance/Real Estate, Tejon Ranch, The Tire Store, University of Antelope Valley, Valyermo Ranch, Van Dam Farms, and Western Pacific Roofing Corp.
For a complete list of sponsors and rodeo information go to: cafinalsrodeo.com or visit California Finals Rodeo Facebook page at:  http://www.facebook.com/californiafinalsrodeo